YICE: Youth Initiative for Community Empowerment
Regenerative Learning Center: YICE Uganda empowers people, conserves biodiversity, scales up sustainable solutions, and promotes collaboration.
---
When Noah Ssempijja founded YICE in 2012, he would not have dreamed of the successes the Youth Initiative for Community Empowerment celebrates today. The organisation implements practical regenerative farming activities in rural Uganda. The team has impacted over 1,500 smallholder farmers, raising their incomes by 20-46% and jointly saved almost 12t of CO2 with regenerative practices. Their focus target group is last mile smallholder female and young farmers, including displaced people and host communities.
Uganda is home to 1.4 million refugees, settled in 14 refugee settlements across the country. Refugees and host communities conflict over farming land, forests, water, and other resources. This is why it needs a regenerative approach so that people can nourish themselves without depleting the soil and their environment, but by enriching the soils and their communities.
"A world where all vulnerable smallholder farmers and their families thrive in a sustainable way is what we believe in and work for at YICE Uganda."

YICE's vision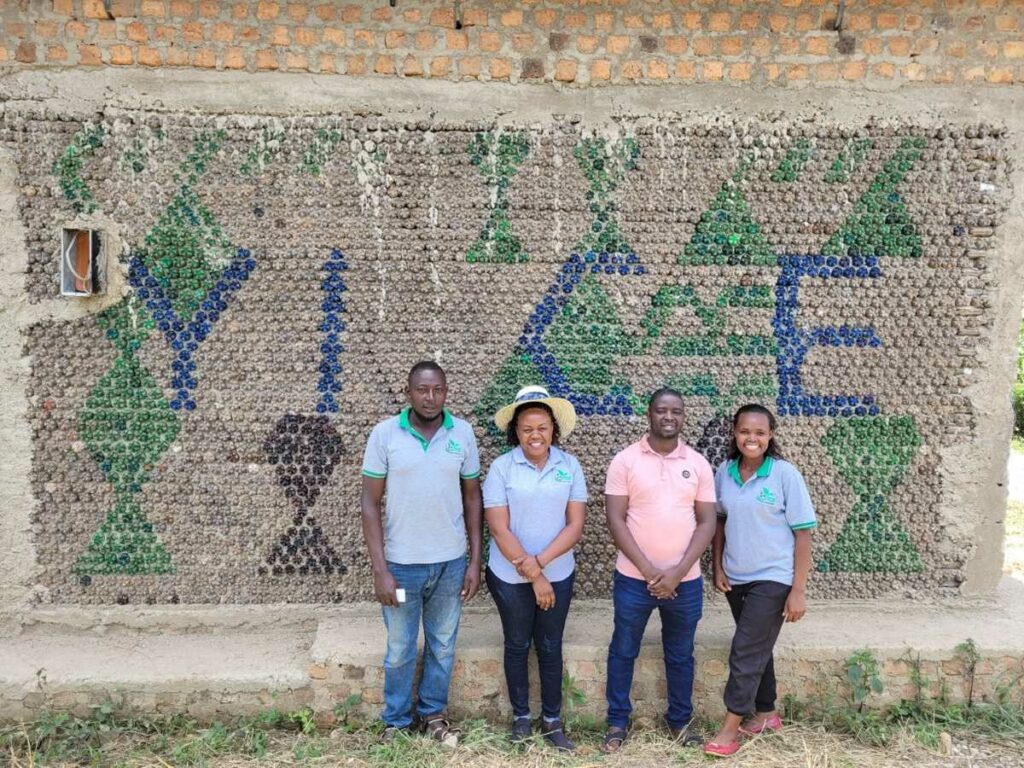 About YICE
YICE Uganda promotes food security, regenerates biodiversity, achieves climate change adaptation, and improves incomes for smallholder farmers. The team supports community-led activities: Practical farmer training in permaculture and regenerative farming, trainings in water harvesting, production of organic fertilisers and pesticides as well as a mobile low cost drip irrigation kit, and mobilising beneficiaries into savings groups.
The households reached by YICE achieved food security with at least two meals per day and increased incomes through sale of farm produces. In addition, they regenerated soils due to the use of organic fertilisers, water harvesting and improved farming practices. YICE raised over 80,000 USD in grants to support these activities.
As a result, YICE has received several awards including the Lush Spring Prize in 2019, the UNDP Climate Smart Challenge, East African Agribusiness Award in 2016, SEED Africa Entrepreneurs Award in 2016, the Tony Elumelu Fellowship Award in 2018 and was long shortlisted for the Ashden Awards 2021.
Moved by the idea of a world with less hunger and poverty YICE Uganda started operating in 2012 as a non-profit organisation. The NGO aims to make available sustainable and easy-to-implement agricultural practices that increase the productivity of smallholder farmers' fields, thereby boosting their incomes while protecting the environment. To achieve these goals, YICE Uganda follows four principles:
The 4 Principles of YICE Uganda
1) Empower People
To enable local communities, especially women, young people and displaced people (IDPs and refugees) to take control of their own lives, YICE Uganda empowers them with theoretical and practical knowledge about permaculture, regenerative agricultural training and flexible financial services.
95 %
of beneficiaries having at least two nutritious meals in a day
2) Conserve Biodiversity
YICE values living in harmony with all creatures – animals, plants and even microorganisms in the soil. For agriculture, this means for them to work according to the principles of organic farming. By implementing permaculture in the agricultural practices, they aim to ensure that micronutrients are preserved and that the soil remains healthy.
46 %
increase in incomes by sale of vegetables
3) Scale Sustainable Solutions
YICE Uganda aims to develop solutions that have a lasting positive impact on the world. Practice knowledge like permaculture gardening are continuously trained in communities. Pilot projects like the Ecosan compost toilets are highlighting a circular, regenerative approach: Human waste can become valuable fertiliser for trees and plants. Building houses with used and sand-filled plastic bottles as bricks is less than half the cost of conventional bricks, using less sand and cement. However, the NGO does not want to keep the results to itself, but to spread them and share them with others.
1542+
beneficiaries reached
(of those refugees: 780)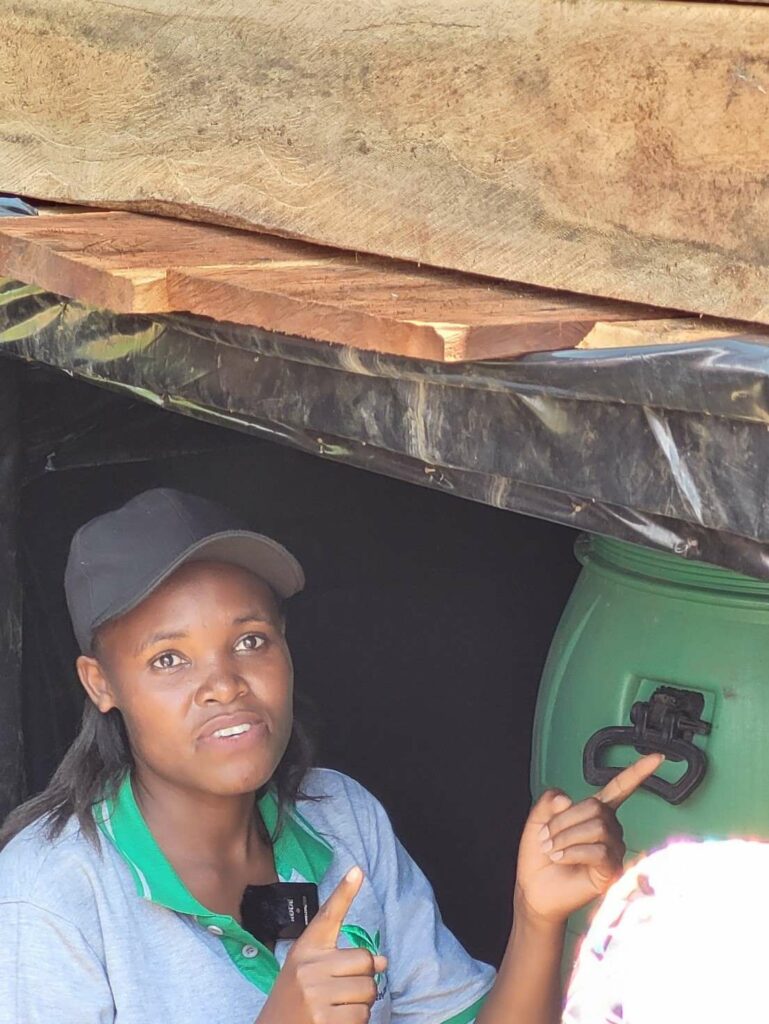 4) Working with Others
YICE Uganda believes that they cannot accomplish big goals alone. Through sharing, partnerships and guidance from others they seek to achieve more. Supporters of YICE include Regenerosity, Re-Alliance and Lush Fund.
11.8 +
tons of CO2e greenhouse gas emissions saved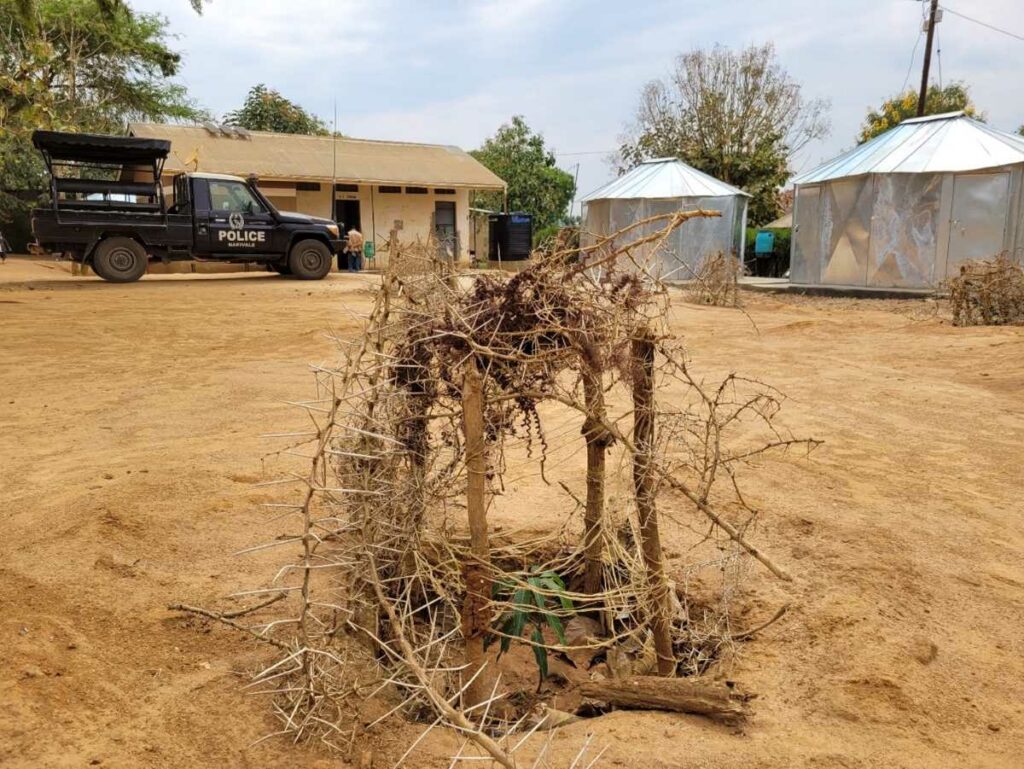 What does YICE currently need to scale and achieve the next goals?
Build a Regenerative Learning Center
In Kassandra district, Uganda, YICE wants to build a Regenerative Learning Center. Currently, the land is secured, the plan is approved and the construction started. 15,000 out of 40,000 US-Dollar are still needed in funding to construct 2 hostels (boy and girls), 1 office and 1 training hall. The buildings are constructed from used plastic bottles. Having trained permaculture and regenerative farming for over six years on a "train and move" arrangement, YICE now designed a base to offer more formal and certified trainings to smallholder farmers and young people. In addition, a lot of agricultural students in Uganda lack opportunities to carry out their practical placements. The permaculture learning center will offer an opportunity for students to apply the knowledge and learn from the garden and food forests. The ministry of education in Uganda will certify the trainings.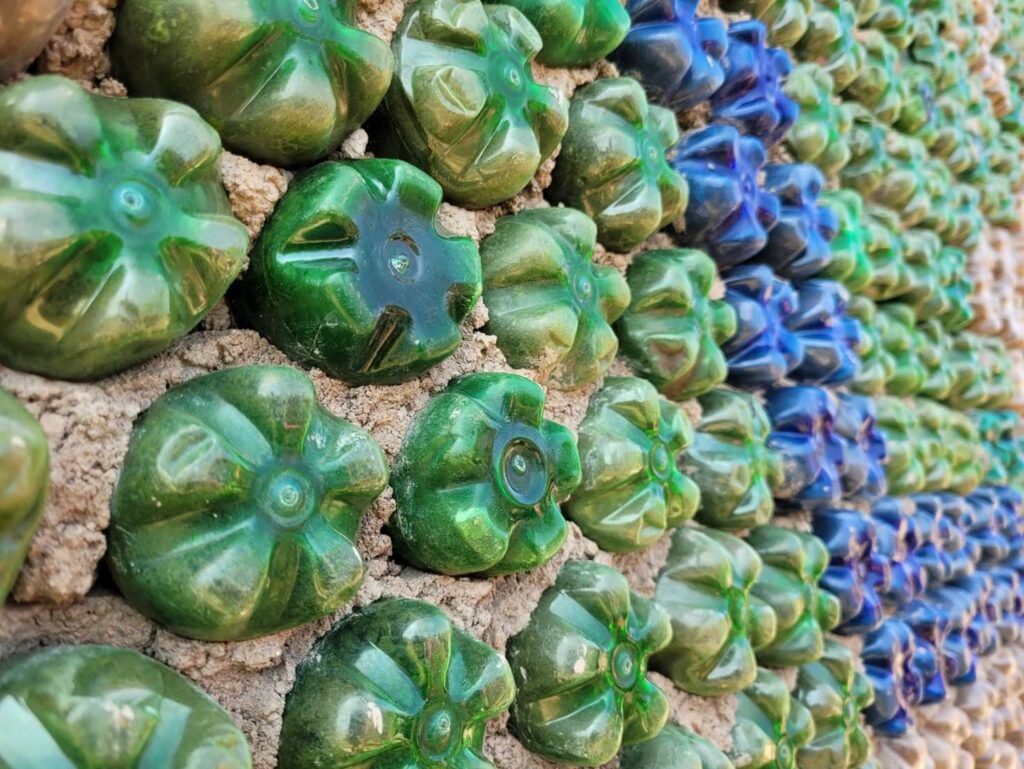 RE-Farm: Regenerative Farming for Displaced Farmers
Nakivale refugee settlement in Uganda is known as the oldest refugee settlement in Africa, hosting over 160,000 refugees. "The increased flow of refugees in Nakivale has put the already scarce resources under immense pressure. Refugees and host communities conflict over farming land, water, forests and other resources", says Noah Ssempijja. Refugees lack of self-reliance and resilience.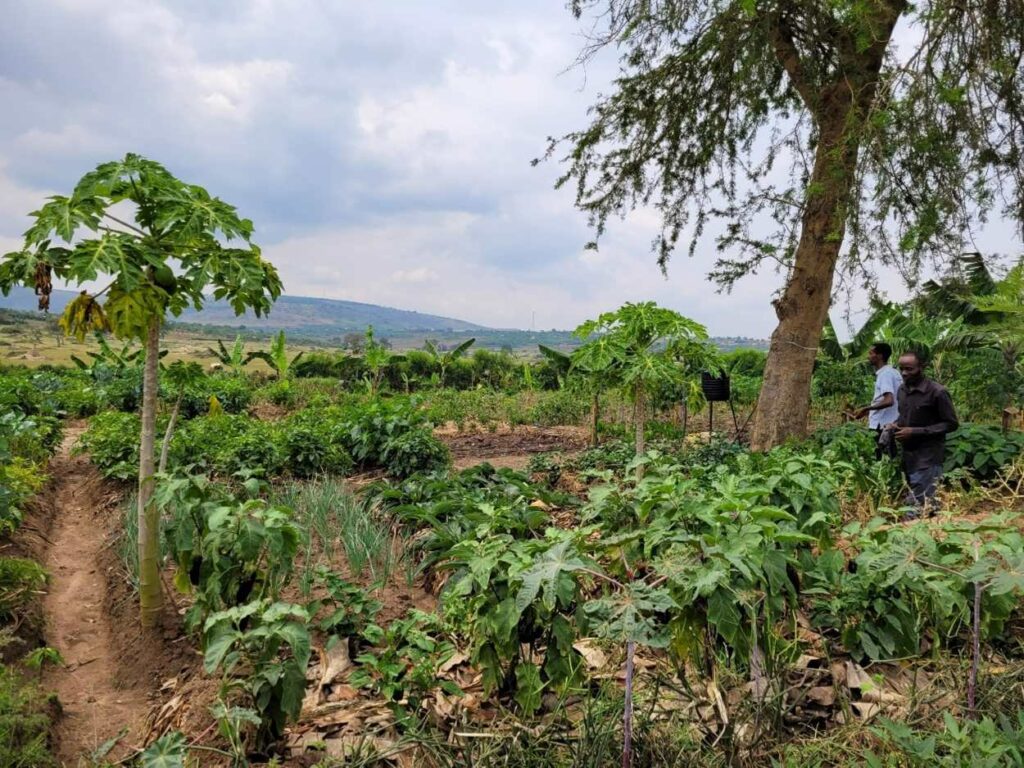 "Re-Farm is an integrated regenerative farming project targeting women and young refugee farmers in Uganda. The project aims to contribute to achieving healthier lives, regenerated soils and more resilient livelihoods for refugees and host communities", explains the YICE team. The lack of food leaves vulnerable women, children and the elderly at risk of becoming malnourished. This can compromise their immune system and make them more susceptible to infections. Hence, the Re-Farm project wants to "build the capacity of refugees to produce organic nutritious food as well as increasing incomes for refugees and host communities through permaculture designs, food forests and access to finance".
The Mobile Drip Irrigation Kit
YICE Uganda manufactures the Mobile Drip Irrigation Kit locally in collaboration with and youths and women in local communities. They only use materials locally available in Uganda: a water tank (150 – 200 litres), drip irrigation pipes and a raised metal stand which increases water pressure. The kit's production costs are around $67 and it is sold so smallholder farmers for $80 – $100.
"We provide sustainable and actionable agricultural services to rural smallholder farmers that help conserve the environment, improve farm productivity and promote incomes; targeting women, youth and displaced people in Uganda."

YICE's mission
More than 40 YICE demonstration gardens are now showing local farmers, how they can grow vegetables without chemical pesticides and fertilisers. And there is more to come – with the support of everyone, who can!
Pictures: taken for Generation Restoration on an educational trip with Regenerosity and Re-Alliance, 2023.
---
Tina Teucher is a "Sustainable Matchmaker" and professional facilitator. She supports sustainable projects to spread, grow, scale and multiply their ideas and inspires at events online and on site. Together with a growing team, she is committed to bringing a vision to reality: Transforming refugee settlements into places of regeneration and hope. In the UN Decade on Ecosystem Restoration, Tina Teucher aims to bring international actors together: Generation Restoration. As a consultant, she builds bridges for sustainable cooperation.
Tina Teucher's newsletter provides information about current sustainability topics about four times a year.
---