OurLand: Restoration & Education in Thailand
How to solve conflicts between wildlife and humans? The project OurLand in Thailand seeks for answers. Tina Teucher met the co-founder Vijo Varghese.
---
OurLand is a nature conservation project in West Thailand, near Kanchanaburi. It protects wildlife and local biodiversity and tackles several challenges: human-wildlife-conflict and habitat loss and degradation, through eco-tourism, regeneration and education.
OurLand is located in the Western Forest Complex, one of the largest contiguous forests in South East Asia. The region is heavily impacted by habitat loss, degradation, and human-wildlife-conflict. The OurLand reserve functions as part of a corridor connecting the Salakphra Wildlife Sanctuary and the Kwae Yai River. This river is an important water source for the sanctuary's wildlife. The organisation currently protects more than four hectares of this wildlife corridor and aims at reestablishing more corridors.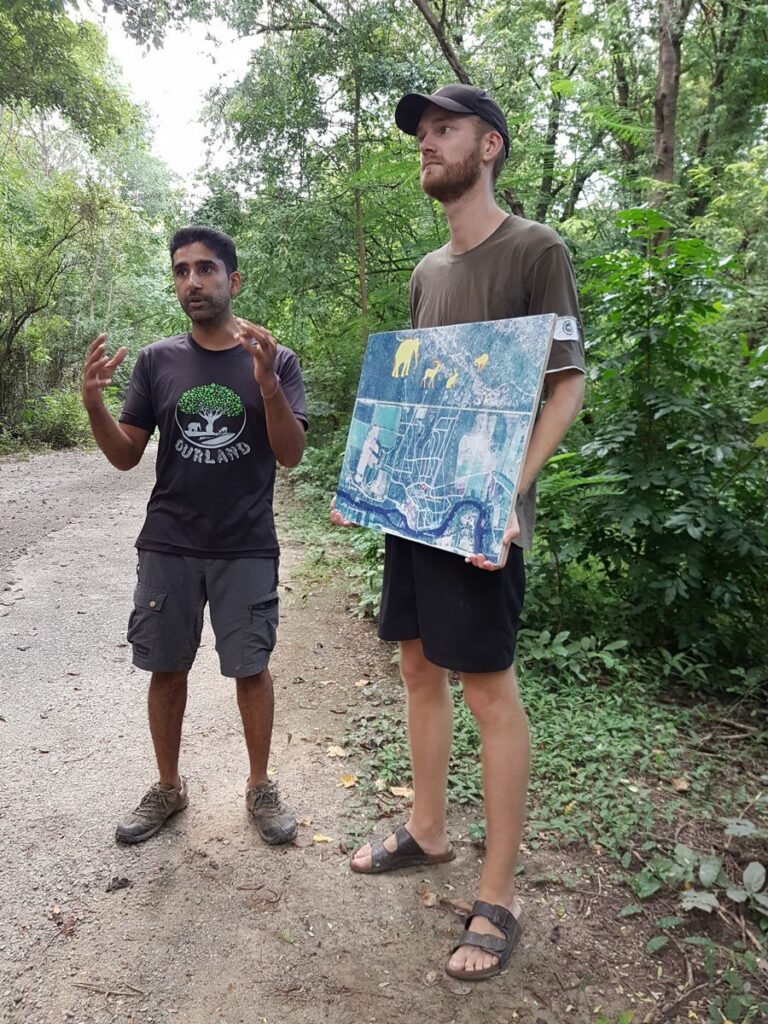 Is Conservation Only For the "Beautiful World People"?
Tina Teucher met the co-founder of OurLand, Vijo Varghese and he shared some of his strategy and thoughts with her. Most Thai people would think of nature conservation as something for the "beautiful world people". As humans in the region often get in conflict with wild elephants: car accidents, attacks, destroyed fields…The notion of "conservation" does not translate easy into the everyday life.
OurLand is motivated by the thought that the world is shared by all beings and recognizes a duty to preserve this land for all. The organisation wants to find and share solutions for human-wildlife-conflict, global change, sustainability and environmental issues. By now they run an education centre and a research station near the Salakphra Wildlife Sanctuary and are currently expanding to a second site: Koh Yao Noi, which is an island in the South of Thailand. Here, they work together with Similan Scuba to develop community conscious conservation activities and research, especially for marine ecosystems.
How OurLand Works
The OurLand startup develops sustainable techniques and systems for living in harmony with nature which Vijo and his team understand as integration with and regeneration of the natural world. To achieve that, they use their ecovillage as an education centre where student groups, locals and tourists are trained. Close cooperation with local people, businesses and authorities is deeply rooted in their work. The whole business model with tailor-made educational programmes and sustainable agriculture aims to enable more biodiversity conservation. "Entrepreneurship is a tool to make change", Vijo says.
Agroforestry in Thailand
OurLand practices agroforestry, that is planting for example Indian Plum, Jack Fruit, Mango, Mangosteen, Longans, Banana and more. Vijo is convinced that reforestation will increasingly emphasize agroforestry as it balances the benefits of both wildlife and local communities. It also brings the ecovillage in contact with the wildlife as the fruits attract animals like elephants, especially between March and May.
Healing the Broken Human-Wildlife-Relationship
To find solutions for the human-wildlife-conflict also means to establish a relationship between humans and animals. "Many children today have a nature deficient disorder, NDD", Vijo says. As children, they grow up in a sterile urban environment without contact to nature. OurLand regularly welcomes groups of kids who panic when seeing an ant. In the courses, the young people re-integrate with nature: by floating in the river, watching the sky, meeting animals like elephants and snakes, making mud bricks, planting trees and doing other conservation efforts, and also by talking to locals about human-animal-conflicts.
Only if there is an understanding and an acceptance for each other, a peaceful coexistence becomes possible. "It's about understanding coexistence", Vijo says. To support this development OurLand started community projects in the area to expand their ethical ecotourism. This is an additional income source for the locals which lowers their competition with the wildlife.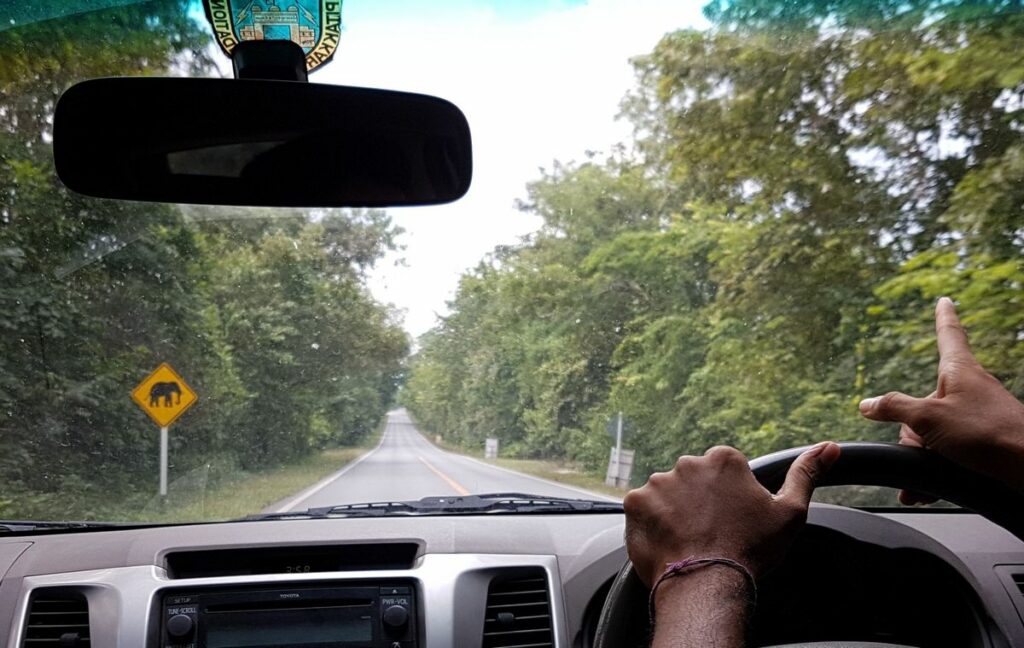 Sadly, car accidents with elephants are frequent in the Western Forest Complex of Thailand. OurLand seeks to build a bridge for wildlife.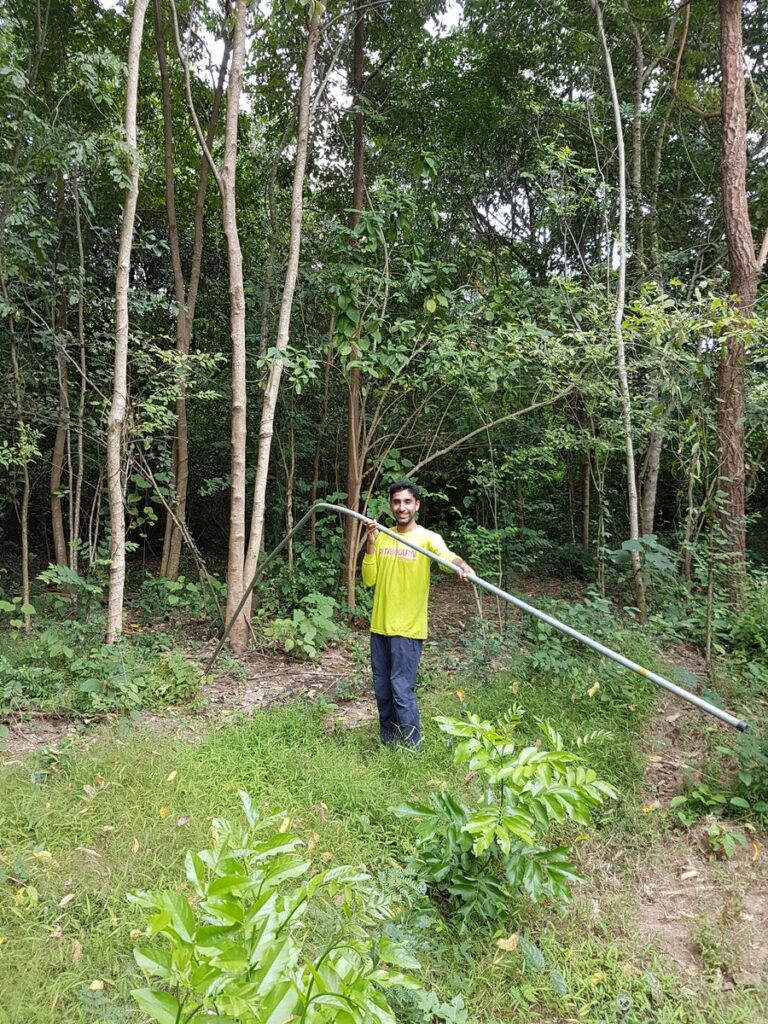 Thailand's Nature Conserving Efforts Focus on Ecosystem Functions
"A natural park in Thailand is more like a natural capital holder", Vijo says. The natural parks are built for water shed management, for example, and focus only on certain ecosystem services. The idea of OurLand is more about preserving the beauty of nature, or as Vijo expresses it: "We are nature. We are the epiphany of nature". The founders see OurLand as the first private natural park in Thailand. This approach is called Private Land Conservation (PLC). The idea came from Doug Tompkins, a fashion entrepreneur and philanthropist, who bought thousands of hectares of land in south America and transformed it into national parks and organic farms (story here).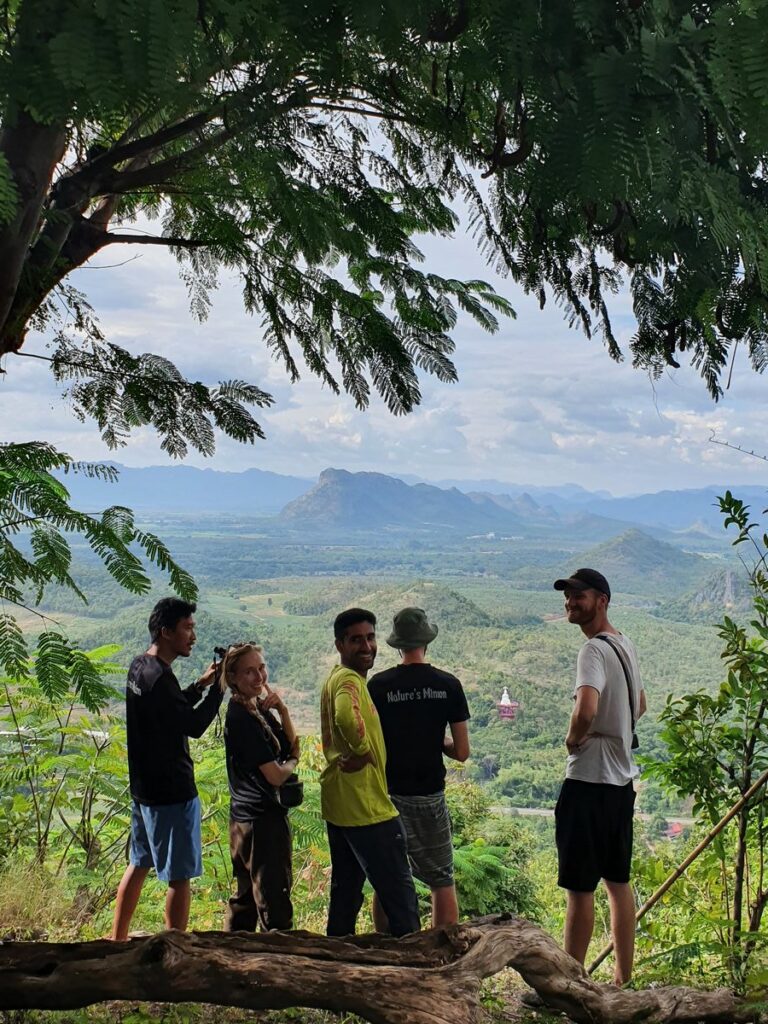 The Thai-Indian Snake Charmer
A special challenge is to reduce the fear of snakes. They are an integral and valuable part of the ecosystems in Southeast Asia. OurLand tackles that by educating locals and international groups about those snakes. Vijo Varghese, who grew up in two different biodiversity hotpots, Thailand and India, has become an expert in catching and rescuing snakes. Since these reptiles fascinated him since childhood, he developed a special relationship with them and can also help people to lower their fears. OurLand also established a rescue centre where they rehabilitate and care for snakes which have wandered into human spaces.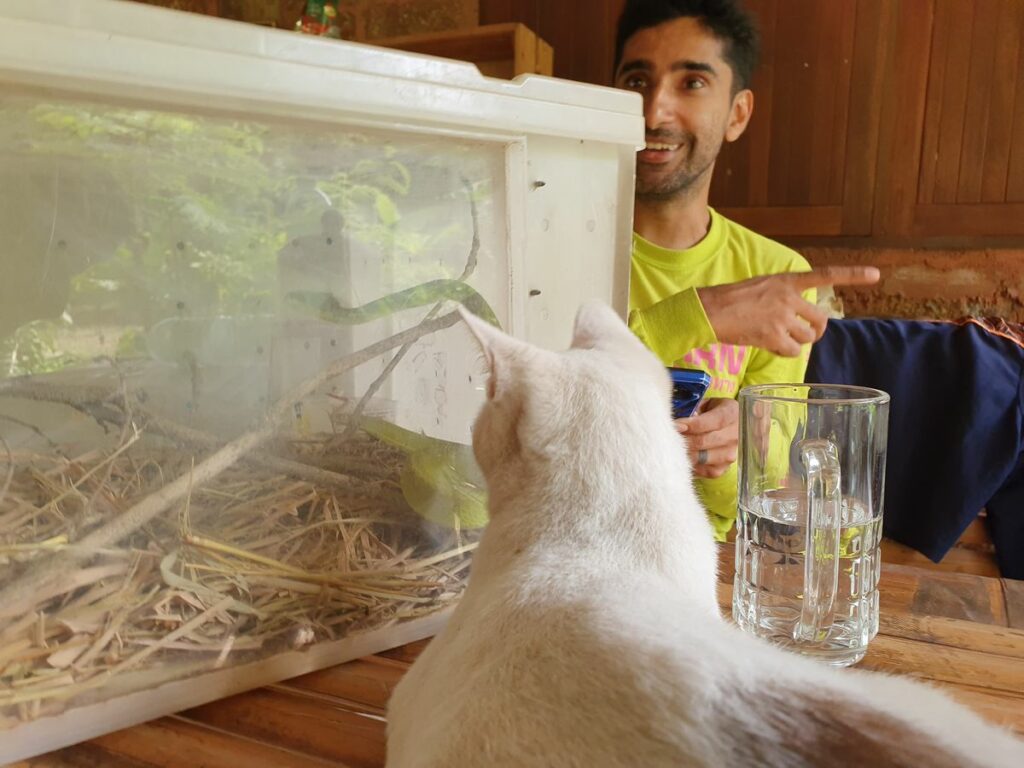 Self-Sufficiency and Sustainability in the Thai Culture
The English term "sustainability" translates to two different meanings in Thai language: 1) hold things, conserve and 2) self-sufficiency. King Rama IX promoted the Sufficiency Economy Philosophy (SEP): "The three components are reasonableness (or wisdom), moderation, and prudence. Two essential underlying conditions are knowledge and morality. In contrast to the concept that the primary duty of a company is to maximize profits for the benefit of shareholders, SEP emphasizes maximizing the interests of all stakeholders and having a greater focus on long-term profitability as opposed to short-term success", explains the website EcoThailand. Half of the king's palace in Bangkok was an agricultural testing farm. He explained to his people the idea of self-sufficiency: First grow your own food, second give it to your neighbour, third conserve it for you and your neighbour and only – after this – sell it.
A Self-Sufficient Ecovillage in Thailand
OurLand's ecovillage strives for carbon neutrality and is off grid – a challenge and an opportunity. The founders decided to operate their ecovillage based on the four pillars of self-sufficiency: energy, food, shelter and water. Furthermore, the village has an own plastic recycling centre and tries to reduce waste as far as possible. Clean-up events with local schools in cooperation with village heads, regional police teams, local Thai military members and the local health center not only raised awareness but also helped prevent animals from ingesting waste.
OurLand Self-Sufficiency: Energy
The ecovillage's electricity comes from solar power which provides energy for 25 lights, 10 fans, 20 mobile charging stations, water pumps, automated computer chips, and 220 Volt laptop charging stations. For cooking, they produced biogas from food waste (and sometimes cow and chicken manure), in 2019 and 2020, which allowed them 2.5 hours of cooking a day. Due to the COVID-19 pandemic, most visits to the ecovillage were cancelled and the biogas production has been paused. Soon the machine of the brand Home BioGas (from South America) will resume its work.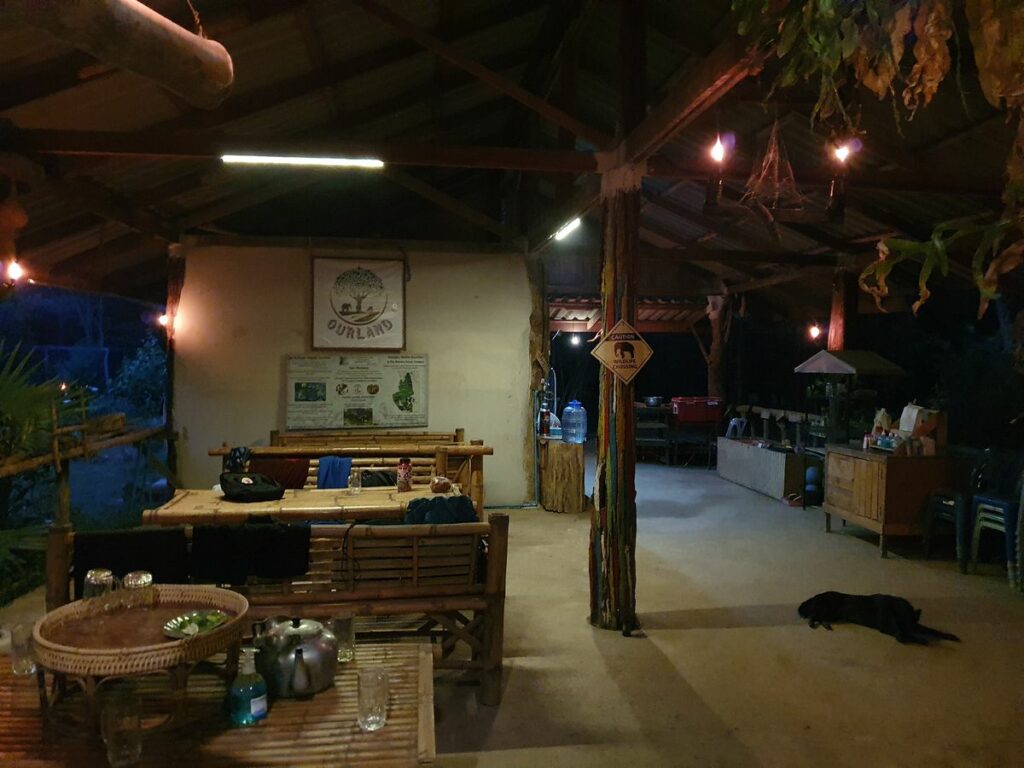 OurLand Self-Sufficiency: Water
As the ecovillage does not have easy water access, rainwater harvesting in the rainy season is crucial. By now, the village uses half of its roof space to collect rain water which ensures water supply for five to six months a year. However, the human-elephant conflict makes the issue even more pressing as the animals raid the local community's water stores in the dry season. In addition to protecting the wildlife corridor to the river, OurLand is creating artificial water holes for the animals. Since 2021, the project examines possibilities of replenishing ground water by using swales.
OurLand Self-Sufficiency: Shelter
If the building material concrete would be a country, it would be the third most carbon intense country in the world. However, alternatives are hard to get: Bamboo is delicious for termites and sometimes not sustainably grown. The same is true for timber, which is rather hard to get and expensive in these times. Mud is a locally available and cheap building material for OurLand. To use less concrete, OurLand started using mud for making bricks. In 2020, the first mud-house with 1,350 bricks was completed. The two-story house consists of a 16qm bedroom, an attic bedroom, a bathroom and a veranda. The organisation considers trying other natural building methods such as rammed earth techniques. When designing mud houses, it is important to plan a good protection from sun and rain – a good roofing.
OurLand Self-Sufficiency: Food
The Thai province in which the OurLand ecovillage is located is the area in Thailand where most pesticides are being used. Cassava, corn and sugarcane are the three main cash crops. Organic farming accounts to only 1-2% of the food production in Thailand. OurLand acts as a pioneer for organic farming via partnerships with local restaurants, a café and a refill station. The organisation also uses their plot for educational purposes in cooperation with a village school. Mango, rambutan and banana grow in the new agroforest.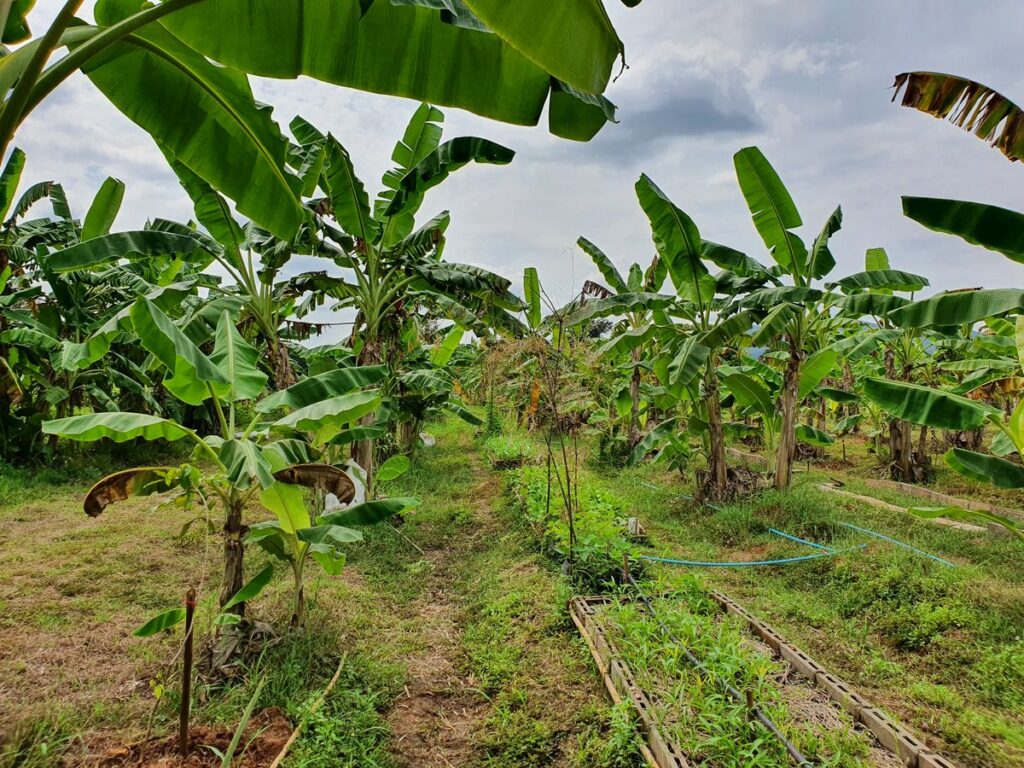 You would like to learn more?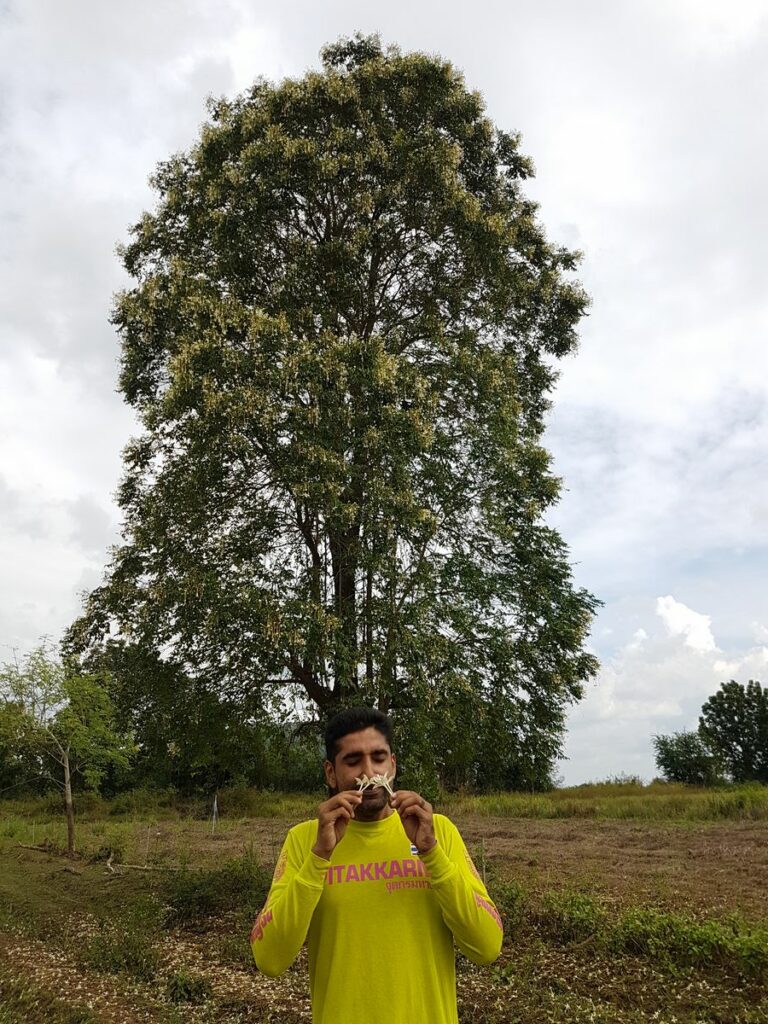 ---
Tina Teucher is works on the topic of regenerative business with experience from Europe, Africa and Asia. In her keynote talks and moderations, inspiring best practice examples give hope for a future worth living. With her diverse methods and ideas, she consults companies in transformation.
Tina Teucher's newsletter provides information about current sustainability topics about four times a year.
---